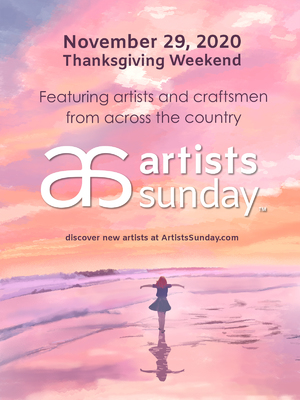 Artists Sunday logos and graphics

MEDIA CONTACTS
Scott Westcott
Turn Two Communications
814.881.0389
scott@turn-two.co

Artists Sunday Launches with 775 Artists and Economic Development Organizations Nationwide to Create the Largest Art-Shopping Day of the Year

Austin, TX (Sept. 16, 2020) — Artists Sunday™ – the nationwide alliance of artists and economic development organizations — launched today with more than 775 participants. Members include 650 individual artisans as well as 125 state art agencies, municipalities, counties, chambers of commerce and non-profit organizations, representing thousands of additional artists. New participants are joining daily.

Planted squarely in the midst of the largest holiday shopping weekend of the year, Artists Sunday aims to make the Sunday after Thanksgiving the arts' most profitable day annually, boosting sales for creators of art, crafts and handmade items while encouraging consumers...